Doctor Pain is a new television series that endeavors to clear the fog of the surprisingly misunderstood symptom most commonly associated with virtually every human ailment… Pain.
But how can something that will affect us all at some point in our lives be so misunderstood? That's the question Dr. Lou will help unlock answers to weekly.
Dr. Lou – AKA Dr. Luigi Nalli – is a young, Harley-riding doctor with a special interest in all-things pain. A "Best New Chiropractor" Award-Winner, Dr. Lou will explain, with the help of leading medical experts, the many causes, manifestations, and treatments of the symptom that in one form or another, at one time or another, affects us all.
"Pain is probably the least understood symptom by health care professionals," claims Dr. Lou.
"The only thing worse is how misunderstood pain is by the general public. If Doctor Pain can help provide even a little bit of clarity for viewers, we hope this information will go a long way towards improving peoples lives."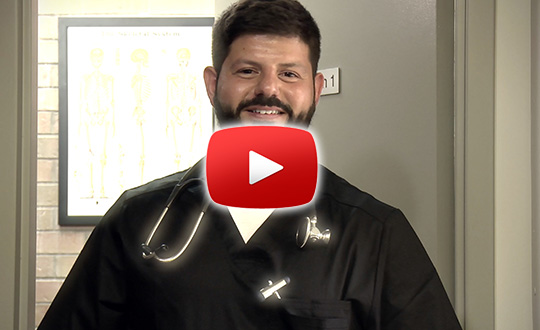 With the vast range of topics to be covered including exploring the many causes of pain from sports injuries to cancer; learning more about tools used in diagnosing pain such as bone scans and MRIs; and even off-beat subjects like pain… for pleasure, Doctor Pain is sure to offer countless educational and informative benefits with the pleasant side-effect of entertainment!
To listen to episodes of the Doctor Pain radio show which airs Saturdays at noon on AM 640 Toronto, click here.